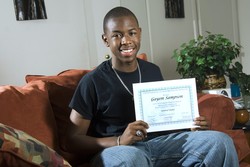 BCWB Junior Board Member Highlight for Success

Frederick Sophomore juggles grand ambitions

Photo by Travis Pratt -
Originally published September 02, 2008 in the Frederick News Post - By Stephanie Mlot - News-Post Staff

http://www.fredericknewspost.com/sections/news/display.htm?StoryID=79579

"I plan to become a lawyer, then become a politician and become the first black governor of Maryland." Frederick native Gayon Sampson, 15, has high hopes for his future. "Then I will take myself to Washington and maybe even the White House." As a Tuscarora High School sophomore, class president and treasurer of the Tuscarora Student Government Association, Sampson keeps himself busy.

This summer, he attended the Maryland Summer Center for Law and Government's Gifted and Talented Students program, learning about law in the state of Maryland. The two-week July experience at the University of Maryland School of Law allowed rising high school freshmen and sophomores the opportunity to "examine, analyze, evaluate and better understand the U.S. legal system," according to a program press release.

"We practiced mock trials," Sampson said. "One of the trials was in Maryland's Court of Appeals. We were able to attend real court sessions and meet great lawyers and judges." With a new school year beginning, Sampson takes his roles as class president and SGA treasurer seriously. "My responsibility is to be the voice of our grade," he said. "Given this title, I must represent myself in the best manner at all times."

As a member of Basketball Coaches Without Boundaries, Sampson does just that. He became involved through his uncles, the president and vice-president of the local volunteer nonprofit organization. BCWB primarily offers youth basketball programs to build physical and mental development and promote good sportsmanship.

"This league is great for the youth in our community who love basketball. They are able to play with friends throughout the summer," Sampson said. Also a member of his school's Model United Nations program, Sampson represented the U.S. in their simulation last year. "I got involved through interest in how our United Nations is run," he said.

It's not difficult to pinpoint Sampson's favorite school subject. "Anything with history and government," he said. "Ever since I was young, this subject has always intrigued me. When I grow up I would like to become a lawyer and politician." Sampson plans to attend the University of North Carolina in a few years to earn a degree in political science, then he wants to move on to law school. He is a self-proclaimed "political junkie" and an avid Dallas sports fan. "During this time of the year, I'm all over CNN and ESPN," he said.

Sampson's ambition is grounded in religion, and he uses two quotes to keep his life balanced: "In order to become the greatest, be the greatest," and "I can do all things through Christ, who strengthens me."