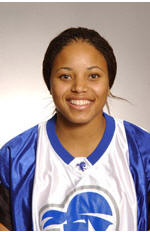 Ashley Bush has been a very dedicated volunteer for our Youth Summer Basketball League. During her summer off season, Ashley has kept score, time and officiated a few games. Over the years, 2001, 2002 and 2003, Ashley has volunteered her time to our program but more so to the youth of Frederick County. Ashley is currently attending Seton Hall University where she is a 5-10 ft. senior guard. Ashley has been very successful over her high school, where she attend Frederick High, and college careers. Below we have provided Ashley's bio as described on the Seton Hall Website. For more information, college career stats and other information on the Seton Hall program, please visit the official Seton Hall athletics website at http://www.shupirates.com/sports/wbball/bio.asp?PLAYER_ID=964.
(Photos copied from Seton Hall Athletics website)


5-10, Guard, Sr., Frederick, Md./Frederick

Solid all-round player who has worked hard to develop a consistent offensive game to go along with her exceptional defensive skills... Assumed the role of team leader, both on and off the court, last season and will be expected to shoulder a greater role, especially on offense, in her senior season.



In 2003-04:


Team captain... Was only one of two Pirates to appear in the starting lineup for each game, leading the team with 10.3 points, 6.2 rebounds and 2.0 steals per game... Named to the All-Metropolitan Division I Second Team... Also tabbed as Seton Hall's Female Junior Athlete of the Year... Earned the team's Richie Regan Most Valuable Player Award for the second consecutive season... Finished the year among the BIG EAST leaders in three statistical categories: rebounds (12th - 6.2 pg), steals (fourth - 2.0 pg) and offensive rebounds (eighth - 2.70 pg)... Reached double-figures in points on 17 occasions and had a string of eight games in which she registered double-digit scoring... Owned four double-digit rebounding efforts on the season... On the Seton Hall all-time career lists, ranks 18th in rebounds (556) and 17th in steals (143)... Member of the CoSIDA Academic All-America District 2 Second Team... Named Tournament MVP at the Navy Classic after posting 8.0 points and 10.0 rebounds per game in two wins, including a season-high 14 boards against Northeastern... Notched a double-double with 21 points (a career-high) and 10 rebounds against Fordham... Registered a team-high 16 points and recorded a personal-best six thefts against Michigan... Narrowly missed double-doubles with 12 points and nine rebounds against South Carolina and 13 points and nine rebounds at Georgetown... Notched 15 points and a career-high nine free throws against West Virginia... Tallied 17 points against Syracuse... Registered game-highs of 14 points against Virginia Tech and 15 points against St. John's... Tallied her second double-double of the season with 14 points and 12 rebounds in the first round of the WNIT against George Mason... Also had double-digit scoring efforts against Charlotte (12 points), Pittsburgh (12 points), at Villanova (10 points), at Boston College (10 points), Connecticut (10 points), at Providence (10 points) and Villanova (10 points).

2002-03: The Pirates' top defensive player... Led the team in steals with 42 and rebounding with 7.8 per game... Started every game at the small forward position... Averaged 7.3 points and led the team in field goal percentage (46.2 percent)... Had five points, nine rebounds and four steals vs. Fairleigh Dickinson... Eight points and game-high 10 rebounds vs. Coppin State... 13 points at Temple, adding eight rebounds as well... Team-best eight rebounds at San Francisco but scored just two points... 10 points, seven rebounds and four steals vs. Fairfield.... Erupted for 12 points and career-best 19 rebounds vs. George Mason... Followed that up with 12 points and 10 boards in win over Pittsburgh... Had third straight double-figure rebounding game with 10 against Monmouth... Had seven points and seven rebounds vs. No. 3 Connecticut and helped hold All-American Diana Taurasi to 1-of-12 shooting and six points (14 below her average)... Nine points and 12 rebounds at Syracuse... Eight points and nine rebounds vs. Providence... Team-best nine rebounds at West Virginia... Third double-double of the year vs. Georgetown with team highs of 11 points and 11 boards...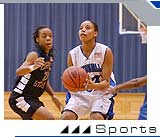 Career-high 14 points and 13 rebounds vs. Rutgers... Led Pirates with five boards at UConn and helped hold Taurasi to just four points on 1-of-4 shooting... Career-high 15 points vs. Miami, adding six rebounds... 10 rebounds at Pittsburgh... Fifth double-double of the season with 11 points and 11 rebounds vs. Connecticut in the BIG EAST Quarterfinals... 12 points and six rebounds at Siena in the WNIT.

2001-02: Played in 28 games, starting 10... Shuffled between the shooting guard and small forward position
and even saw time at the '4' spot... Averaged 3.8 points and 5.1 rebounds (third on the team)... Was averaging 5.2 points and 5.2 rebounds through the first 12 games before a sprained ankle limited her production... Went 15 straight games without scoring more than six points... Broke out at the BIG EAST Championship, averaging 10.0 points and 10.5 rebounds in two games... Career-high 12 points vs. Providence at the league tourney to go with nine boards... Eight points and career-high 12 rebounds in second round vs. Connecticut, adding four steals and two blocks... Eight points and 11 rebounds vs. Temple... 10 points, seven rebounds, five assists and three steals at Monmouth... 10 rebounds vs. George Mason... Second on the team with 41 steals... Recipient of the team's Richard J. Regan Award for exemplary leadership and character on and off the court.

High School/Personal: Averaged 14.9 points, 12.4 rebounds, 4.5 assists and 3.7 steals as a senior at
Frederick High School... Named the Frederick News-Post Player of the Year as a senior and sophomore...
Named All-Metropolitan Fourth Team by the Washington Post... First Team All-State by the Associated
Press... Missed her junior season with a knee injury... Member of the National Honor Society, the Student
Government Association and the Women Excelling Beyond Club in high school... Given the Outstanding
Athletic Award by the Frederick Sports Complex... Also played four years of volleyball... Plans to
major in child psychology... Born 7/20/83.