<![if !vml]>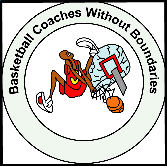 <![endif]>BCWB
Summer Youth Basketball League Coaches Manual
2018
BCWB Program Directors
Dwayne Whiten Sr. – President, BCWB                  dwhit111@aol.com         (301) 473-2140
Lynette Whiten – EVP, BCWB                     lcwhiten@aol.com          (301) 473-2141
DIVISIONS:
Pee Wee Division             4th/5th/6th Grade
Junior Division                   7th/8th Grade
Senior Division                  8th/9th/10th Grade
TEAM ROSTERS:
Rosters will be limited to 12 players
Each Coach will be provided with their official Roster – Players may not be added unless registered by BCWB
PLAYERS:
Each team will consist of no more than 12 players. Each team will play with 5 players and no less than 4 at the start of each game.
Everyone on the team will play and Everyone will play an equal amount of time on the court. Each player must play at least ½ of the game. Coaches use their discretion as to how to ensure the playing time.
The intent is to provide all participants equal playing time regardless of skill level or experience. It is the role of the coach to help ensure that every child plays and has a positive experience.  BCWB Staff will monitor playing time and if there is any display of players not being played, BCWB reserves the right to speak with the coach directly about the playing time of a player and a win may result in a forfeit as a result.
COACHES:
Volunteer Coaches: All coaches are volunteering their time to make this a great experience. We try and select coaches who are knowledgeable in skills we are trying to teach.  It is highly recommend that you have an assist coach/parent coach at all times to ensure there is a coach for each game as a result of late arrival, vacation, etc.   For the safety of everyone, only the coach, assistant coach, players and BCWB staff members are allowed inside the gate during all games.  Children (non-players) and other spectators are not allowed to sit on the bench and should have accommodations outside the playing area (fence).
Coaches agree to support and influence good sportsmanship, high moral standards and are responsible for the conduct of their players and spectators. This includes, but is not limited to, Unsportsmanlike disagreements with officials or insubordinate acts against supervisory staff.
The referees are in charge of officiating the game and their decisions are FINAL; right or wrong.Any comments made to the referees or the staff should be made before the game, at half time, and/or after the conclusion of the game.
Please cooperate with the BCWB Youth Basketball staff in creating and maintaining an environment in which each participant may have fun, learn the game and be a good sport. We encourage parents to focus on the children and not the referees.
A coach is an adult leader who teaches the team the basics of a sport. The coach acts as a teacher and a friend. They should give positive feedback first, and then in a teaching way explain to the player what they did wrong and how they can fix the mistake. For example: "John you're doing great, you are really hustling out there, next time you're in the game and you're on defense, I want you to try to stay between your man and the basket, okay? You're doing well." This way the players feel good about themselves and are still having fun. Also the player will be more likely to implement the skill a coach is teaching.
Teamwork a critical part of the game of basketball. This is a team sport, which means that all the players must be involved both on and off the court. That means that one player does not always dribble and shoot the ball. There are no Michael Jordan's in this league, so every player should be involved in the game. Players should pass the ball to each other, and every player should have a chance to shoot, dribble, and rebound the ball.
BCWB Summer League Youth Basketball Staff reserves the right and WILL send home anyone (this includes coaches, players, spectators) who are in violation of the rules and regulations set by the program for the health, safety, and welfare of all participants.  Coaches who receive 2 technical fouls, will be asked to leave the park and cannot coach from outside the fence.